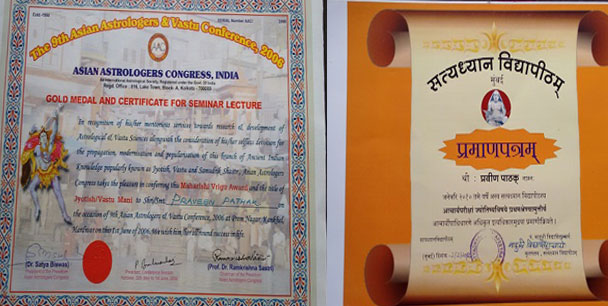 Acharya Praveen Pathak
Acharya Praveen Pathak is the son of Shri.Shankarlal Pathak. He is a resident of the holy kshetra GAYA and is the Chief Priest of the Vishnu Pada Temple . We are known to be the descendants of Lord Brahma. Upon the orders of Lord Brahmaji, we are offering our services to Lord Vishnu in Gayakshetra. Our forefathers have also been serving Lord Vishnu since lakhs of years. The desiring pilgrims coming to Gaya from all parts of India wishing to perform pitru shraaddha,puuja vidhi,Narayan Bali,etc. are given proper guidance as per our ancient scriptures.
Pt.Pravinacharya Pathak has graduated from Satyadhyana Vidyapeetha situated in Mulund West. He has been a resident inmate of the Vidyapeetha for 14 years and has been educated on the ancient Gurukul System. He has acquired proficiency in Vedas,Vedanta, Astrology,Vyakarana, and other shastras under the aegis of Kulapati Vidyasimhacharyaji Mahuli. He has been bestowed with the title of "Acharya" and has acquired special prowess in astrology from Varanasi and Kerala. He has been given the title of "Jyotishya Shiromani" in Kerala. Simultaneously, he has been given the Gold medal in Asian Astrology and in Maheshwari. Devout pilgrims come to our place from all parts of India for performing Pitru shraaddha. Many Kings, emperors come here and go away with a very satisfied mind after performing the rituals enlisted in our scriptures. Many IAS officers, politicians, industrialists, Actors/actresses, and many devotees from abroad come here and become free from all blemishes in life and acquire success.