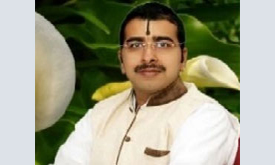 Pandit Jee Profile
We are the Purohit and Pandaji of Gaya Ji (Gaya Dham) Tirth Kshetra for whole Utranchal, Rajshthan, West Benga,l Uttar Pradesh, Madhya Pradesh, Jharkhand, Bihar, Karnatak, Andhra, Tamilnadu and all Hindu who lives in India and NRI. We are providing the services of Pind Daan (Pind Dann) in Gaya, Shradh in Gaya and Dosh Nirwaran Pooja, Tarpan in Gaya. We can arrange the others facility on your behalf like stay in Hotel, Dharamshala, Tour guide and Taxi hire etc for individual or Group.
For More Information & Consulting for Kundli & Match Making & Other Major Problems :
Mobile : +91 96614 41389 / +91 99055 70673.